Structural Safety Research Center
Due to the collapse of large infrastructures, there has been a rapid increase of interest in structural safety, especially for aging structures.
Such catastrophic collapse causes not only damage of human life but also significant economic loss, leading to necessities for research on disaster prevention. To accomplish the aforementioned purpose, the center was founded on June 1, 1993 and it has contributed academically and industrially to the research and development for new structural material and design methodology as well as enhancement of structural safety and durability.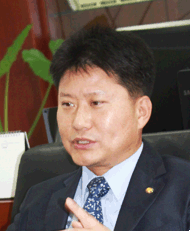 Director
Prof. Young-Ki Lee
E-mail : leeyou@kookmin.ac.kr
Research Fields

Technology for the design of super-long span bridges
Seismic design for facility of power plants
Development of design specifications for the plant tank structures
Application of polymer composite materials in construction
Fracture behavior of ultra-high performance concrete studied with non-destructive testing methods
Serviceability study of SUPER Concrete including cracking and deflection
Development and details of reinforcement in ultra-high performance concrete
Performance-based design specifications for the steel-concrete composite structures
Mega-scale deep excavation method development in the urban areas
Design technologies for the overseas construction and plant projects
Behavior of expansive soils and the non-destructive testing methods for soil surface characteristics
Statistical methods to assess the reliability of the geotechnical testing results
Performance-based design development for the hybrid piled raft foundation

Research Results

Design manual for the steel members and orthotropic steel deck system of super-long span bridges ( MOCT/KAIA )
Technology for the design of long span cable stayed & suspension bridges/ Design of superstructure using high performance steel (MOCT)
Performance-based design code for the steel-concrete composite bridges (MOCT/KAIA)
Development of technology to ensure seismic capacity of switchyard facilities in nuclear power plants (KHNP)
Development of design criteria of seismically isolated structure in nuclear power plants (KETEP)
Development of regulation requirement of seismically isolated structure in nuclear power plants (KINS)
Revision of seismic design guidelines for electrical facilities of transmission and distribution (KEPCO)
Research on mid- and long-term planning for R&D of safety management of facilities against disasters (NDMI)

Researchers

| Name | Status |
| --- | --- |
| Bae, Doo byong | Professor |
| Cho, Nam Jun | Professor |
| Choi, Sokhwan | Professor |
| Hong, Kee Jeung | Associate Professor |
| Kim, Hyun Ki | Associate Professor |
| Kim, Sukmyung | Assistant Professor |
| Lee, Young ki | Professor |
| Oh, Chang Kook | Associate Professor |
| Park, Sin Zeon | Researcher |