Hybrid Device-Based Circadian ICT Research Center
Hybrid Device-Based Circadian ICT Research Center
Hybrid Device-Based Circadian ICT (C-ICT) Research Center of Kookmin University which is located at the foot of Mt. Bugak was open in June 2016 by the financial support with ERC (Engineering Research Center) project of National Research Foundation of Korea and Ministry of Science, ICT and Future Planning.

The goal of C-ICT Research Center is establishing the intelligent wellness-care/healthcare ICT platform which recovers the circadian rhythm disorder, e.g., insomnia and depression induced by a frequent night duty, the abuse of cellular phone, and light pollution. Detailed purpose is cultivating the C-ICT circumstance/infrastructure which measures the bio-signal of user in real time, analyzes it in comparison with the standard, and finally recovers the bio-signal within the normal range by using a customized light therapy.

In this process, a variety of high-level technologies, such as a big data, algorithm for analyzing a circadian rhythm, software platform, deep learning, and hybrid devices, e.g., circadian glasses, smart patch, nano-LED, and IoT sticker, will be studied and developed.

Therefore, the C-ICT is really a multidisciplinary and of convergence subject including hardware, software, wearable healthcare, IoT, artificial intelligence, semiconductor devices and integrated circuits, display, LED, non-silicon technology, and energy-harvesting.

If the C-ICT platform is successfully established, a new market and huge value added will be created with the synergy effect of Korea-driven technology, such as semiconductors, displays, and communications. Furthermore, the C-ICT platform will potentially contribute to a national welfare and paradigm change of healthcare/wellness-care by enhancing a circadian rhythm.
Research areas

Group 1 : SW-communication-signal processing-big data-analysis
Group 2 : Hybrid fabrication process-devices-circuits
Group 3 : Optoelectronic materials and devices-energy harvesting and storage
Commissioned Group : Packaging-industrialization-standardization

Funding sources

National Research Foundation of Korea
Ministry of Science, ICT and Future Planning
Ten companies (PSI, Y.K.Glass, Fine MEC ect.)

Selected
Publications

Flammable carbon nanotube transistors on a nitrocellulose paper substrate for transient electronics, Nano research, 2016
Geometrically controlled organic small molecule acceptors for efficient fullerene-free organic photovoltaic devices, Journal of Materials Chemistry A, 2016
Study of Perovskite QD Down-Converted LEDs and Six-Color White LEDs for Future Displays with Excellent Color Performance, ACS Applied Materials & Interfaces, 2016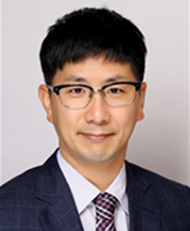 Director
Prof. Dae Hwan Kim
E-mail : drlife@kookmin.ac.kr
Research members
| Name | Status | Institution |
| --- | --- | --- |
| Kim, Dae Hwan | Director  | School of Electrical Engineering, Kookmin Univ. |
| Kim, Dong Myong | Researcher | School of Electrical Engineering, Kookmin Univ. |
| Choi, Sung Jin  | Researcher | School of Electrical Engineering, Kookmin Univ. |
| Kim, Daejeong | Researcher | School of Electrical Engineering, Kookmin Univ. |
| Jeong, Gu Min  | Researcher | School of Electrical Engineering, Kookmin Univ. |
| Choi, Sun Woong | Researcher | School of Electrical Engineering, Kookmin Univ. |
| Lee, Seung Min | Researcher | School of Electrical Engineering, Kookmin Univ. |
| Kim, Jong Kwon | Researcher | School of Computer Engineering, Seoul National Univ. |
| Yang, Eun Ho | Researcher | School of Computing, Korea advanced Institute of Science and Technology (KAIST)  |
| Do, Young Rag | Researcher | Dept. of Applied Chemistry, Kookmin Univ. |
| Kim, Hyung Min | Researcher | Dept. of Applied Chemistry, Kookmin Univ. |
| Yim, Sang Gyu | Researcher | Dept. of Applied Chemistry, Kookmin Univ. |
| Jang, Sung Yeon | Researcher | Dept. of Applied Chemistry, Kookmin Univ. |
| Jung, In Hwan | Researcher | Dept. of Applied Chemistry, Kookmin Univ. |
| Mun, Jin Hee | Researcher | Osong Medical Innovation Foundation |
| Kim, Eun Young | Researcher | Osong Medical Innovation Foundation |
| Yim, Young Hun | Researcher | Osong Medical Innovation Foundation |